With rain ruining a lot of my photo shoots lately, I thought I would write a blog post about how I go about using Nik Software Filters. Like Photoshop actions or Lightroom presests, Nik Software has a suite of tools that help a photographer enhance their images. I do use some actions or presets but a lot what I use in my photographs to clean up or enhance are with Nik Software Filters.
What I enjoy about using Nik Software filters is how easy it is for me to use their tools to create the vision I have for my photographs. I use their SilverEfex Pro, ColorEfex Pro, Viveza and Dfine software. SilverEfex Pro is their black and white software and well, it's pretty much said what I use it for. ColorEfex Pro has a wide range of filters and I use these quite a bit from their dynamic skin softener filter to their tonal contrast filter. With Viveza I can pin point certain color tones and enhance just them while not affecting the rest of the photo and I use Dfine to clean up an noise that may be in the photo.
My workflow is quite easy when I'm using Nik Software filters. I usually clean up and add some punch to the colors with Viveza first. Depending if I'm working on a landscape or portrait determines what I use next. Sometimes it's ColorEfex Pro, sometimes it's SilverEfex PRo. I don't use those filters with every picture but if I'm trying to achieve a certain look I will. I use Dfine last and I use it on every photo. I don't want any traces of digital noise in my photos.
There is a litany of different combinations of filters I can use to achieve certain looks but I primarily stick to about a handful of them. With SilverEfex Pro I can change sliders and add sepia tints to the photo if I so desired. I also use Nik Software's U Point Technology to just change certain colors or areas within the photo. This U Point Technology is available in all of the Nik Software applications. With working with landscapes or cityscapes I tend to stick to the Bleach Bypass, Tonal Contrast, Cross Processing and Foliage filters. If I was working on a portrait, I would use the Dynamic Skin Softener, High Key, Cross Processing and Pro Contrast filters. I don't like to go to overboard with my filters so I try to keep it simple.
Below are some before and after photos using Nik Software filters.
Viveza
SilverEfex Pro
ColorEfex Pro: High Key, Dynamic Skin Softener
Dfine
ColorEfex Pro: Bleach Bypass, Tonal Contrast
Dfine
Viveza
ColorEfex Pro: Foliage, Tonal Contrast
Dfine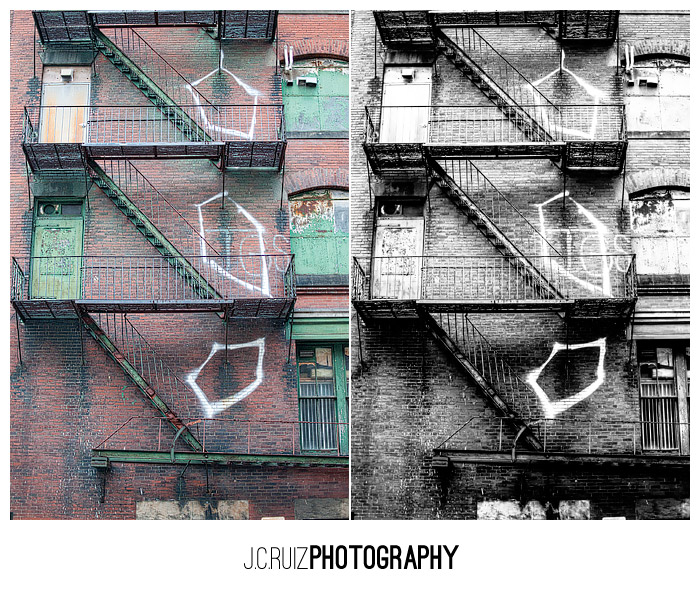 ColorEfex Pro: Tonal Contrast
SilverEfex Pro
Dfine
Viveza
ColorEfex Pro: Tonal Contrast
Dfine
ColorEfex Pro: Cross Processing, High Key, Pro Contrast, Dyanmic Skin Softener
Dfine
Viveza
ColorEfex Pro: Tonal Contrast
SilverEfex Pro
Dfine
Viveza
ColorEfex Pro: Dynamic Skin Softener, Pro Contrast
Dfine